Today is International Women's Day!  Last September, I wrote a piece about how progressive rock and metal both carry the stereotype of being mostly male dominated genres, among both fanbase and artist. However, women have long been a part of progressive music.  There are so many boundary-pushing female artists that have made progressive rock what it is today, though they are often forgotten in discussion. I've interviewed many progressive artists who have cited inspiration from women like Annie Haslam from Renaissance, Sonja Kristina from Curved Air,  as well as crossover prog artists like Kate Bush and Laurie Anderson. There are so many others! The influence of women is woven into the DNA of progressive music, and there are so many women who have contributed so much and continue to contribute significantly to the genre. Here are a few artists that I have enjoyed as of late.
Just like the last post, this is not an exhaustive list! I've not included bands with both male and female lead vocalists, nor have I included acts that are very well known in and out of the prog world (such as Lee Douglass from Anathema, who very deservingly won the Prog Magazine Reader's Award for best female vocalist, or the ever experimental Bjork). Not all of them are "progressive" in the traditional sense (not all of them write music that sounds just like Yes or Genesis), but all of them are making bold, ambitious, and complex music that deserves your attention. Just like the previous post, if you would like to share your favorite female progressive artist, feel free to leave a comment in this post!
Carla Kihlstedt (Rabbit Rabbit Radio, Tin Hat Trio, ex Sleepytime Gorilla Museum) : I had the privilege to interview Carla for the website last year, and her interview was one of my favorite interviews that I have ever done. Carla is a skilled composer, violinist, singer, and multi-instrumentalist. She is perhaps best known for her work with avant garde group Sleepytime Gorilla Museum, though she us also well known for her music with her current group, Rabbit Rabbit Radio and her chamber music group, Tin Hat Trio, which has been featured on several movie soundtracks and radio programs.  Her most recent project, Black Inscription, recently debuted at the Prototype Festival in New York to high critical acclaim. Black Inscription is a concept piece, written as a love letter to the oceans, and is haunting and moving and powerful.
Lainey Schooltree (Schooltree): If you haven't heard Schooltree's latest double album, Heterotopia, go and listen as soon as possible. Lainey worked extremely hard for several years to tell the story of Suzi, a modern day Rael who embarks on a surreal and mythical hero's journey. It's impossible not to notice Lainey's attention to detail,  as well as her exceptional compositional talent and narrative ability on this impressive double album, that is both a throwback to great prog concept albums like The Lamb Lies Down On Broadway and Quadrophenia, and modern and relevant artistic statement. In true progressive fashion, the album also comes with a gorgeous art book depicting various scenes from the narrative with illustrations by Amanda Watkins.   Heterotopia was one of my favorite albums from last year, and it's absolutely worth checking out in full. However, to give you a little taste, check out the epic, Floydian "Day of the Rogue".
Marjana Semkina (iamthemorning): Marjana Semkina is half of progressive rock/chamber pop duo iamthemorning. Her unique, expressive voice has earned her much recognition in the progressive music world.  iamthemorning's album Lighthouse, a powerful statement on mental illness,  won Album of the Year from the Progressive Music Awards, and was given a glowing review by our very own Xerxes in 2016. Here is the lyric video for ¨Chalk and Coal¨, one of the highlights of the album.
Susie Bogdanowicz (Glass Hammer): Last year at the first inaugural Progstock festival in Rahway, New Jersey, I had the privilege to see Glass Hammer perform. Their lead vocalist, Susie Bogdanowicz, tackled challenging vocal lines with both grace and power, and was one of the standout vocalists of the weekend. After the performance, I went and listened to their latest album, Valkyrie, and was very impressed with her performances throughout. Check out "No Man's Land" from Glass Hammer's latest album.
Laure Le Prunenac (Corpo-Mente): I have been a fan of the more experimental/avant garde section of progressive music for many years now, and I stumbled upon female led French duo Corpo-Mente after listening to several songs by the supremely talented, fearless and frankly scary French band Igorrr. Laure Le Prunenac sang on several Igorrr songs, and I really liked her performances, so I checked out her project with Igorrr composer Guatier Serre, Corpo-Mente. I was blown away by this album, a diverse set of genre-bending compositions, with performances ranging from harrowing to whimsical to frightening. Laure's powerful, operatic, and versatile voice is the highlight of Corpo-Mente's music. Check out this track: "Dorma", as well as her insane performances with Igorrr (if you think you can handle it).
Ninet Tayeb (Ninet, collaboration with Steven Wilson): Ninet Tayeb has made a name for herself lately from her contributions to Steven Wilson's last two albums, so it seems unusual to include her in this list. She is also wildly successful in her home country of Israel. But, Ninet's solo work can't be shared enough, and my hope is that those who enjoy her work with Steven Wilson have checked out her solo work, and don't just know her as "Steven Wilson's backup vocalist". Her voice has an aggressive edge and her compositions are brooding and intense. If you haven't checked out Ninet's music, do yourself a favor!
BONUS ENTRY: For fans of progressive/black/extreme metal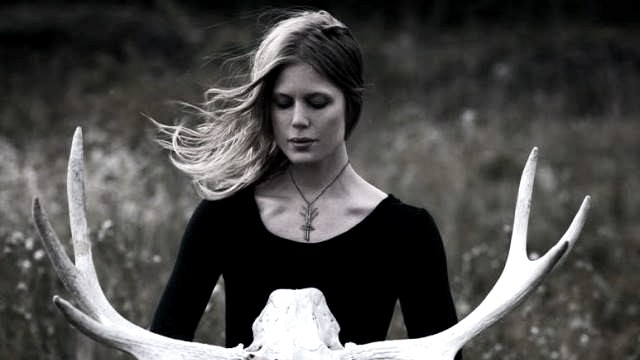 Amalie Bruun (Myrkur): In my last list, I included Dreadnought, a group that sometimes features harsh vocals and black metal influences, much to the chagrin of a few of our readers. But, I have been really enjoying the heavy, crushing, and cerebral tones of Danish composer Amalie Bruun, who goes by Myrkur. Myrkur is mostly a solo project, with Amelie playing all instruments but drums. Her latest album is called Mareridt, and received much acclaim upon release. If you can't stomach heavier, more brütal forms of metal, Myrkur may not be for you, but if you want to listen to some dense, complex, and atmospheric metal with powerful female vocals, check it out. Here is a track from her 2015 album, M. For the record, it doesn't include any screams or growls.
Who else should we have included? Leave a comment below and let us know.