Have you heard Kindo (formerly The Reign of Kindo) yet? They are, hands down, one of the coolest bands touring right now. Their music is an incredible blend of influences and styles, ranging from jazz to funk to prog to pop. Lately, they've been pretty busy, with an East Coast tour, a successful Patreon, and some really great new music.  I had the privilege of talking with Johnny Baab, guitarist for Kindo, about what the band is up to these days.
1.) The group used to be known as Reign of Kindo, but now you're going by Kindo. What's the story behind the name Reign of Kindo, and why the change?
The inception of the name "The Reign of Kindo" was a product of random text messages by founding guitarist Mike Carroll.  As the story goes, the boys were actually at a restaurant and put him on the spot to come up with the name while they were eating.  I came into the picture about 5 years ago, so I missed all of this process…  We liken the name change to just "Kindo" to just saying your first name instead of your first, middle, and last name every time you introduce or refer to yourself.  We figure it might be a little easier to remember for new fans, but to the OG fans we will always be TROK.
2.) Kindo has decided to "record, produce, market and distribute" new Kindo music exclusively through Patreon. Talk about some of your reasoning behind this.
In an ever-changing, technologically advancing world, the paradigm to release music has drastically changed for artists.  I think this has altered the main source of revenue for bands and musicians everywhere- and it's important to find a way to sustain despite record sales not being a main source of revenue anymore.
 Patreon is a platform we found out about through a band that we toured with, JOLLY.  Essentially it allows people (or "patrons") to directly support us by pledging a monthly donation and in return, they get a new song every month- for as little as $1, with the option to get more exclusive behind the scenes material as the amount pledged increases.  It is a new creative process for us, being that we have to deliver a new song every month, but it has been an amazing process and the journey has connected us even closer with our fans.
 Our patrons are essentially our 'Executive Producers' and company investors, leaving us directly accountable to them and eliminating the no-longer necessary 'middle man'- a record label.   It gives us all of the creative freedom we desire, while having the purest relationship possible to the fans that support our art.  It's a leaner, meaner, music-making machine.
 Anyone can get involved for as little as $1 a month at http://Patreon.com/thereignofkindo
3.) Kindo's music is a pretty diverse mix of influences, so it's really fun to try and explain Kindo's musical style to those who have never heard it. When people ask you to describe Kindo's music, what do you say?
Oh man… this one is tough.  I think as an artist, the last thing we want to do is box ourselves into a genre, because we all love playing different styles of music freely and hate to limit that.  I think as a music listener it is more desirable to be able to sort of categorize the music you listen to by genre because it makes it a bit more tangible.
I've been telling people we are 'Alternative Jazz-Pop.'  The 'alternative' seems to give an impression of us being a bit scrappy and out of the box, while still respecting the sophistication required to compose and perform jazz music. The pop is in reference to Joey's vocal & melodic stylings, which are always pulled into the school of MJ, Stevie Wonder, and other timeless pop artists. There are a lot of moving pieces involved in making that distinction, as we all have such vastly different musical backgrounds.  So yeah.. somewhere in there.
4.) Let's talk about the new record  from Kindo, coming out in April. Are there any new directions or influences that are more prominent as of late?
Our latest influences definitely come through on this new record.  It's the first Kindo record that I am playing guitar on, so it's really exciting for me. There are lots of funky parts, which I love.   But we are all developing human beings, and the latest versions of ourselves are definitely prominent on this record.   I know it's vague, but all I can promise is that we've all been developing as musicians and you'll get a mix of the old and a bit of the new.
5.) What is the songwriting process like in Kindo? Does it vary from song to song?
Definitely varies song to song.  In releasing a new song every month with our Patreon campaign, we definitely have been experimenting with the process.  For the past year and a half or so, we have been renting out a house for maybe like 5 days at a clip and we will just hunker down and write for those days.  Sometimes someone brings an idea, or an entire song, or we will just jam until something comes through.   After that, we coordinate studio sessions to track the material that we wrote on the writing retreat, and we just nail them out since we have to have a new one ready every month. It's a new process but it's great to be creating on such a consistent basis.
6.) Will the new songs have live, in-studio performances like the ones already on Youtube?
Possibly.  Very possibly.  We'll see.
7.) Both 'This Is What Happens' and 'Play with Fire' had separate albums released that were chiptune versions of the songs. What's the story there, and will we get chiptune stuff in the future? (I love the gold Kindo cartridge)
Thanks, I'm glad you like it!  So both of these records came out before I was officially in the band, but our drummer Steve and founding guitarist Mike Carroll have done an amazing job creating these 8-bit remixes of our songs to make them sound like Nintendo soundtracks.  The band is full of video game enthusiasts, so that's where that stemmed from.  We've been releasing 8-bit versions of our newer songs to our higher-tiered donors on Patreon.  Just another reason to get involved over there.
8.) Kindo is about to do an East Coast tour (will link tour dates here) with tourmates Little Tybee. What can fans expect at these shows? Tell us about the Scavenger Hunt that you and Little Tybee have put together.
First I'd like to say we are super pumped to tour with Tybee.  We've done a couple of shows with them in the past, and they were both awesome.  One was in Atlanta (where they are from) and one was in Brooklyn (where I am from), so it's going to be nice to hit some neutral ground cities together on this nice little run that we are doing.  Brock from LT has become a great friend of mine, and I can't speak enough about what a brilliant, creative human being he is.  It's truly inspirational, and we are stoked to be doing this tour with them in March.
 As far as the The Scavenger Hunt… Tybee and Kindo will be teaming up with Capt'n Thom as they tour the East Coast in search of the Captn's missing crew.
A street team has been assembled to help hide two handmade tokens depicting the head of Apollo in each city on the tour. 12 tour posters have been sent to each city but only 2 of the 12 will have the tokens attached to them. The Tybee Street Team will take photos to give hints as to the location of the tokens. If found, the possessor will gain free entry to that cities show as well as receive a surprise VIP package with treasure from Tybee and Kindo.
Also, we will be selling physical copies of our new CD at these shows, before the official release date in April.  So come get them hot off the press!
9.) You also play with the John Baab Trio. Tell us about this group, and what they do.
I started the Trio almost 5 years ago to the day, when I was 23.  I met Jeff Jarvis (bassist) while we were working together at Guitar Center- which was quite the miserable time in my life.  I was making minimum wage in NYC, which is one of the most expensive cities to live in… and I remember one day on my lunch break I was playing some guitar in the live room, and Jeff, who was newly hired, came up to me and asked me what I was playing.  I think I was working on some melodic minor riff that I had just written for one of my songs… and I was just so caught off guard by his interest in what I was playing.  I didn't think it was anything that spectacular and Jeff really pushed me to start releasing some of this music.  I went to LA for New Years Eve, and I came back a different person.  That new person wasn't willing to wait for the "right time" anymore, because I always felt like it was never the "right time"… but within that, I learned that it is always the "right time" to do what you want to do.
 Previously, I had been doing a lot of work for hire stuff with an amazing drummer, Kendall Lantz (@kendall_lantz on Instagram).  We spoke at length about how we felt we were undervalued in such a competitive music market in NYC.  So it was kind of this perfect storm, and the trio is what came from it.  From there, Jeff asked me to play some guitar in Kindo's live videos in 2013, and that was my first introduction to Kindo and it's all history from there.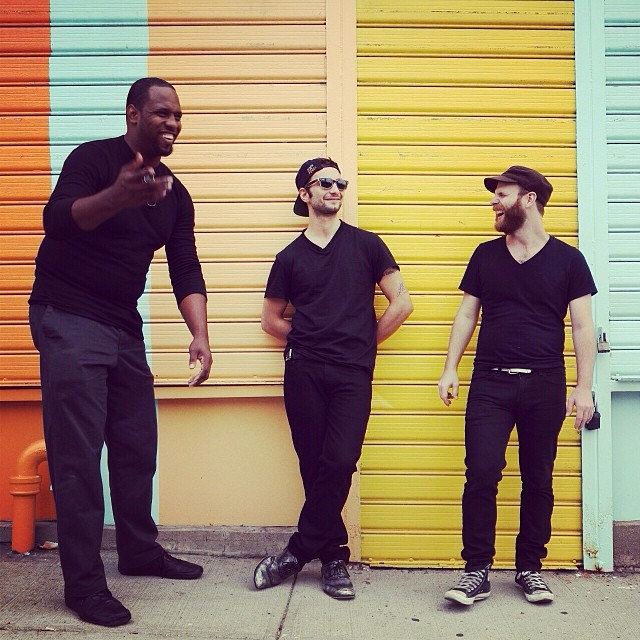 As far as the Trio goes, we've released 2 EP's, and we have played literally hundreds of shows around the NYC area.  Rodney Flood came into the picture to take over drums and sing harmonies with us about 4 years or so ago, and we've done everything from residencies to engagement parties to cover gigs.  The Trio is definitely a form of therapy and a necessary release I need to be a functioning adult in society.  It's so much fun to play with those guys- we actually have a residency at Rockwood Music Hall in NYC coming up every Thursday in April at 10pm.  This is the 3rd year in a row they have offered us a residency- the last two years have been every Thursday in March and this year we are doing it in April since Jeff and I will be on tour with Kindo in March.  Anyway, the Trio is like a little child to me since it's songs I have written from places deep within my heart and soul. But it's also just such a fun vibe.  You can find our music for free on BandCamp. (https://johnbaabtrio.bandcamp.com/)
10.) Do you have any guilty pleasures? Or are you a "no shame in my game" kinda guy?
I'm more of a "no shame in my game" type of guy.  I've come to realize that growing up in Brooklyn has provided me with an extremely unique upbringing that only native NYCer's can relate to.  I am a very direct human being, almost to a fault, and that NYC attitude has followed me everywhere, for better or for worse.  But either way, being exposed to such a diverse community from such a young age has taught me not to judge anyone- every single person you meet is going through a struggle that you don't know about, including you and I.  No one is exempt from that.  And I know all these unique flavors make the human race interesting- so there's really nothing I feel "guilty" about.  I try not to judge and I similarly hope to not be judged either.  It's the least we can do for each other as human beings.
Bonus Question: Would you rather have unlimited burgers for life, or unlimited tacos for life?
Damn.  You bring the tough questions man!   I love burgers and I love tacos, but to be honest- I really try to limit my meat intake these days.  I don't want to get on any kind of soapbox… but I love animals, and lately I've been very conflicted about drawing the line in that we can eat certain animals but other animals are socially taboo to eat.  I remember as a kid going fishing with my father while we were camping, and I'd catch a fish that I would have to kill, gut, cook, and eat.  It was one of the hardest things I've ever had to do.  I think the first time I cleaned a fish was when I was about 7 or 8 years old, and it just felt so wrong.  I had to cut open this poor fish that I fooled into thinking was getting a nice meal, while I was in a canoe creating this deception.  But that doesn't happen these days.  Most of us are entirely separated from that process.  We just go to the grocery store and pick up this nicely packaged slab of meat that had been previously murdered and cut into pieces.  I'm not denouncing eating meat at all, because truthfully I love chicken or a good steak… all I'm saying is that I think everyone should have to go through that process of killing and cleaning the animal before cooking and eating it to get a better understanding of where the food is coming from.  It's easy to go to the grocery store and buy meat because you don't have to think about the slaughtering process.  Alas, I'd choose burgers ha-ha.
Just to wrap, I just want to remind everyone that tickets are on sale for our March tour with Little Tybee.  We are also releasing one new song every month via Patreon and you can find all of that info on our website at http://thereignofkindo.com.  Hope to see all y'all there!