I knew I had to see Devin Townsend at Bogarts. I couldn't really avoid it. Mastodon, Eagles of Death Metal. and Russian Circles were playing at the Taft, which would have been a given if any other band or group was playing, but Devin and I go way back.
I remember first hearing Devin Townsend's music in 2001 on an InsideOut sampler. It was 'The Fluke' from Terria. It was weird and hilarious and intense and love at first listen. I started reading about him online, and digging into his music, and in the years to come, Devin Townsend was one of my few constants- those artists that always make their way onto your playlists or car trips. Part of it was that I feel like I connected with the emotions and honesty of his music (Terria was a highly reflective album) and part of it was that he was constantly evolving and changing and producing. If I felt like listening to brutal, heavy music, I'd turn on Strapping Young Lad's City. If I wanted calm, meditative music, I'd turn on Ghost. If I wanted epic, positive heavy metal, I'd turn on Epicloud. So I've been a fan for 16 years, and I think he is as much as a fixture in my musical DNA as Paul McCartney or Peter Gabriel at this point.
As of now, I've seen him 3 times, and if he comes anywhere less than 5 hours away, it's a given. I'll be there. And with Thank You Scientist as tourmates (I'll talk more about them later), the entire evening was setting itself up to be a pretty amazing night of music.
We showed up a bit late. We unfortunately missed the opening act, which wasn't the one listed, either. I researched a bit and couldn't find their name, either (It wasn't Oni). Sorry, opening act! If anyone can send me their name and information about them, I'd be happy to include them in the post.
Thank You Scientist took the stage right around 9. Thank You Scientist is one of the most interesting and progressive bands on the progressive rock scene, hands down. If you haven't had the pleasure of hearing them, please do. Unlike Devin, they have 2 fantastic, virtuosic, brilliant albums instead of 30- much less intimidating- Maps of Non-Existent Places, which came out in 2014, and Stranger Heads Prevail, which came out last year and was reviewed on our blog.
The band has 7 members: A vocalist, guitarist, bassist, drummer, a violinist, a saxophonist, and a trumpet/flugelhorn player. You'd think that the extra instruments would provide the occasional flourish, but all of them play nonstop throughout all of their songs, providing an instrumental foundation that features some of the most insane instrumental polyphony I've ever heard. They do lightning fast unison runs that bust into dizzying harmonic patterns, as they jump from jazz fusion to speed metal to progressive rock in a matter of measures. All of the madness is held together in the form of Salvatore Marrano, who belts his youthful tenor voice out of his large frame, and dances in a way that almost seems like he's directing odd time signatures and instrumental changes. I couldn't stop saying, "Holy crap." I'd point out the impressiveness of any one musician (Tom Monda's guitar work was particularly good), but everyone on stage was fantastic. The brass section, violin, and guitar would go into these ridiculous runs that would last for just a couple measures, leaving you wondering what had just happened. The best songs of the night? "Mr. Invisible", "Caverns", a spirited cover of both the Zelda theme and "Baker Street" by Gerry Rafferty (which I happen to love, for the record), and the ridiculously intense "My Famed Disappearing Act". Thank You Scientist was fantastic and overwhelming live, and I will definitely go see them again.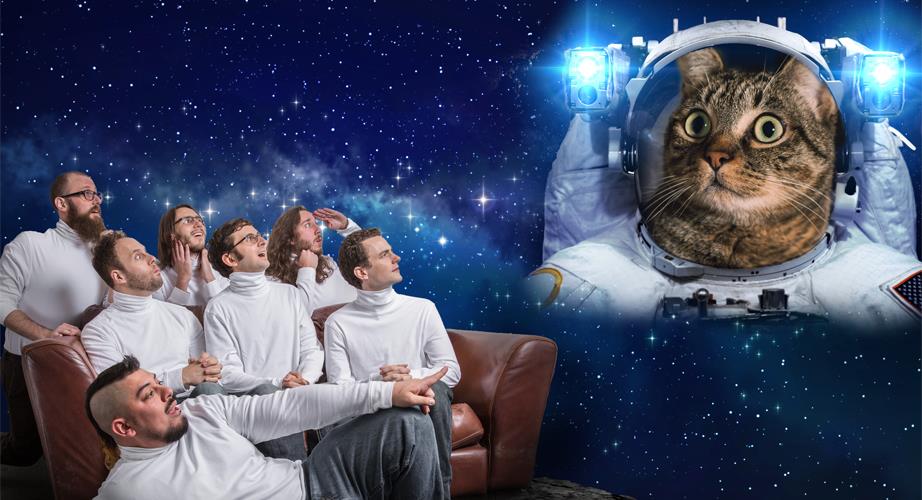 Devin and his crew took a bit to prepare the stage, but it wasn't too incredibly long. It was pretty late on a Sunday night, and by then, we all kind of knew we would be screwed the next day (especially those of us who had a bit of a drive home), so we just waited eagerly for the Devin Townsend Project to take the stage. When he finally emerged, it was like the preacher took the pulpit. And appropriately, he started with the song he probably wrote to open shows, "Rejoice" from Sky Blue.
It's hard to describe what it's like to go to a Devin concert without making it sound like a weird cult. As a matter of fact, the last time I saw Devin (in Louisville with Between the Buried and Me), I brought a friend, who said, "That entire show felt like I was at some weird cult meeting- but I want to join that cult." Devin has honed this ability to wrap the crowd around his finger, by exaggerating his already funny persona, and then smashing it down with self deprecating comments. One moment will put you completely in awe of his talent, only for him to end it with a masturbatory pantomime, and then follow up with a commentary on why that particular gesture was stupid and juvenile and distracting. I think this pattern of exaggeration and vulnerability make the show seem almost like heightened reality.
Devin played more new stuff than old stuff, which is OK. His career has lots of intense, moody music. His newer stuff has that secularly spiritual element to it, and is lively and engaging and fun and interesting to watch. He, however, threw a few classic songs in- "Night" from Ocean Machine, and maybe the most impressive performance of the night, "Deadhead". I think that I can emphatically say that, without any question, Devin Townsend is among the greatest vocalists in metal music, and I don't feel like this is an overstatement at all. His ability to switch from brutal screams to operatic vocals in the same measure is extremely rare. And, even on a rough night, he can do things with his voice that no one else can do. I happen to know that he is not a big fan of singing live (or singing in general), and he has good reason not to be, because what he does is insanely hard. Don't believe me? Just watch- especially around 6:19.
Some of the highlights of his set: "Stormbending", obviously the aforementioned "Deadhead", "Supercrush", the always fun "March of the Poozers", and the best show closer ever, "Kingdom", complete with the Devin, Beav, and Dave Young doing their classic move, seen below (at a different concert, but same choreography):
Thank You Scientist and Devin Townsend were two different bands, probably with different fanbases. But I think that this ticket pairing was inspired, because for both bands, I was part of an excited, engaged crowd. And I came in being more into Devin's music, but I left feeling much more of a Thank You Scientist fan. Nights like these are the kinds of energizing nights that remind me why I started the blog and why music matters to me. If you are a prog fan and get a chance to see either group, DO IT. You'll thank me later.